1. The meeting of the waters sustains a continuous process, not a single event in time. The lagoons in the river are fed by never-ending streams.
The integrity and continuance of the two cultures must be accepted and assured by each. Can and should this acceptance be guaranteed by formal treaty? By what means can cultural survival be assured? How is the balance of cultural change and cultural preservation to be adjudicated within each community? Public debate poses these questions only in relation to Aboriginal culture, but the long-term future of European culture in Australia is also problematic. Environmental breakdown (salinity, deforestation, etc.) has already proceeded to a point that at least one central feature of European culture, its attitude to nature and to the 'land', must be entirely restructured in a more realistic appraisal of the environmental and ecological constraints of the Australian continent. In this regard, what is the role of Australian educational institutions in relation to Aborigines and in relation to European and other cultures?
1.8
Ganma; moiety – Yirritja; clan – Gumatj; painter – Yalmay Yunupiŋu, 1989
ochre on bark, 36 x 20 cm.
This text was produced specifically to represent the concept of ganma, Here we see two distinct grids which are formalised representations of two groups of people (see Exhibit 4) which are connected by the deep understandings (the dark brown strip running through the centre of the bark) which develop with negotiation.
Spilt blood and tears like rivers flow.
Painful memories drift like sand
from the dry and empty creek-bed.
Our spirits go to the islands
disappear like the bullets' echoes
or the screams of dying children.
For, like the thunder, horsemen came
and bullets crashed like rain and lightning
into the midst of the dancing people
of the people gorged on cattle meat
that triumphant hunters had brought back home.
-Archie Weller, in K. Gilbert (ed.), *Inside black
Australia*, Penguin, Ringwood, Vic., 1988, p.68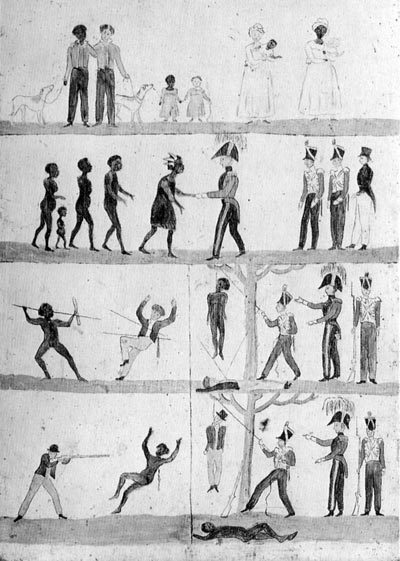 1.7
unknown artist, Governor Davey's proclamation, 1828 oil on huon pine, 34 x 22 cm
Mitchell Library, Sydney.
An earlier failed attempt at ganma? Boards like these (depicting blacks and whites living in harmony as social equals under equal justice) were posted on trees in Tasmania. At the time of the posting, blacks were already being hunted like animals. Any modern attempt at racial reconciliation must be seen against a backdrop of murderous while duplicity, which most blacks see as continuing into the present day.
2. Foam is generated at the interface of the two streams.
The last two hundred years of racial interaction in Australia is a tragic story of violence and suffering. The energy which has sustained this intense encounter must be redirected. But how? What positive projects of cultural interaction can we now structure? Mutual appreciation occurs in sport and more recently in art. What other areas of constructive cultural encounter might be imagined? Most particularly, are there means by which the two cultures might collaborate to save some of the remnants of the continent's great and unique ecosystems?