In the land around Caledon Bay, the Dreamtime origin of biiru (crocodile) is inextricably linked with the origin of the Gumatj people. Since they share origins, we should not be surprised to find that the Gumatj revere the crocodile.
The relationship between the crocodile and myself and all my clansmen is a very special relationship. Because we believe that where the Gumatj people came from is represented by a crocodile. We believe that we came as a crocodile, and we believe that everyone of the tribal lands that we own from our forefathers were created and given to us once by a crocodile, and therefore that relationship is very special even today.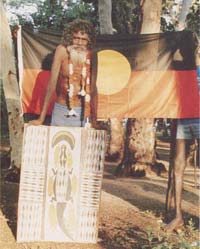 3.10
The bark shown in ITEM 3.10 (and ITEM 1.5) was prepared for ceremonial use associated with the work of the Ganma Research Group in 1988. It is a Yirritja, Gumatj text, here held by the painter Djamika Munuŋgurr.
I see a crocodile as an animal that is part of me and I belong to him, he belongs to me. It's a commoness of land ownership. Everything that I have comes from the crocodile. Crocodile, he's the creator and the land giver to the Gumatj people. In my group of people, and the "forefathers, we have always treated crocodile in a way that it is part of a family.

We consider ourselves, even name ourselves, as crocodile and we come back as crocodile. When our body's dead, gone, our spirit becomes crocodile. Men, human beings, all races, must respect other animals because they want to live the same way as we do and there should not be any dominating approach to other living creatures. There should be ways [to do that]. There's plenty of areas. There's a lot of areas that we can all share in. This is how I feel that crocodiles should be approached. And Aboriginal people, through thousands of years of living with crocodiles, never have considered that they are dangerous animals. We have always lived with them. They lived their own life and we lived our own ways, as long as there is common respect for each other.

(Gularrwuy Yunupil)u, in Living with crocodiles, ABC, videotape transcript)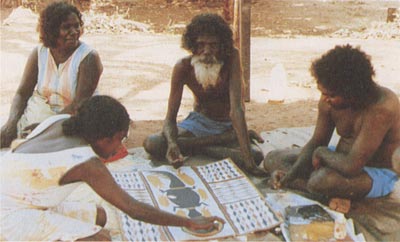 3.11
ITEM 3.11 shows the preparration of the bark. The artist is helped by his wife Gulumbu Yunupilju, daughter Ŋalawurr Munulŋgurr and Mandawuy Yunupiŋu.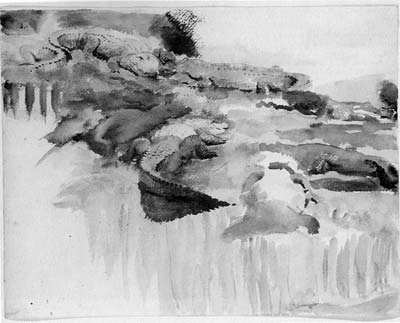 3.13
John Singer Sargent, 1856-1925, Crocodiles, n.d. Watercolour on paper, 40 x 52.8 cm
Metropolitan Museum of Art, New York.
This painting of the landscape of the American alligator, seen by Banram, depicts the power, beauty and grace of the beast, as it blends into its natural environment.